Hello Community, Friends, & Allies! Thanks for coming by to either stock up on some resources, take a peek around, or just to spend some time (asynchronously) with some fellow collaborators (and please do drop us a line, if you want a more "live" experience getting to know us 😉
AMC Friends (and others)! Please find:
[Slides] P2P Sharing Economy ROUND TABLE here.
[Slides] How To: Tool Lending Library here.
[Directory] Tool Lending Library Resources here. Includes:

Liability Waivers
Invoice Templates
Borrowing Policies
Online App Suggestions
Factors for Sharing Study
You're also welcome to gander at the landing page that was formerly our indiegogo (kickstarter) content below:
Indy Art | Media Co-op wants to ensure that people from all racial, social, and economic backgrounds have equal access to the media &tech. tools they need.
Interested Already?
Have an equal voice in our tool-buying process and become a member!
E-mail us or see the following:
Why the iTooLL? What's a Tool Lending Library?
Economic status should not drive Indianapolis art and culture! For organizers, social entrepreneurs, and artists alike, access to quality equipment can often dictate creative capacity, event effectiveness, and overall community impact. Equal access is key to amplifying Indy's voices in culture, the arts, and all of our neighborhoods.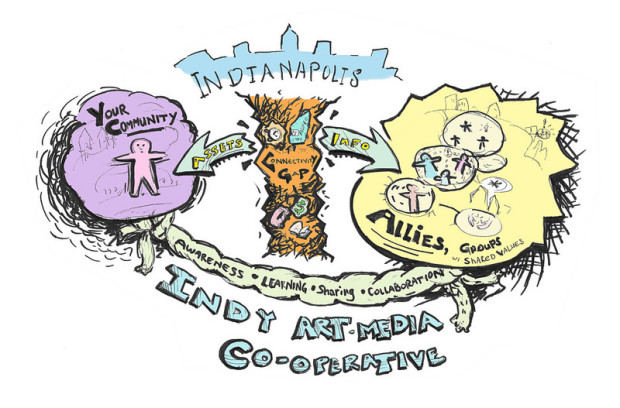 iTooLL will help bridge any resource access gaps that many Indianapolis artists and community organizers and currently experience.
How It Works?
For only $1*/week for members, iTooLL will lend event/media-based tools such as,
Story-telling Items– cameras, tripods, laptops, & audio recorders
Event Production Items– PAs, mics, & projectors
Practical Items– Canopies, tables, & chairs
iTooLL will be available to all community members in order to facilitate equal access and encourage community connectivity through asset-sharing.
*Even non-members may rent, at 20% of tool-replacement-cost / week.
iTooLL will be open 2 days a week (Tuesdays & Saturdays is initial estimate).
We're Still Fundraising
All of our yearly operational costs have been secured for 2016! We are currently taking (both monetary and tool) donations that will go towards
Raising our projected library inventory to 150 media tools (currently at 84)
Offering income-based scholarships to individuals who wish to membership
Grand opening Membership & Tool Drive materials (graphic+web design, printing…)
Becoming a member, and donating (barely) used tools are perhaps the best ways to support the iTooLL program! See below for details and contact information. We also appreciate those who can support monetarily.
We're still roughly $2,000 short of our $14,100 (or 150 tools) for an optimally robust inventory (see the list here). Any amount raised beyond that will be split all between new tools that have been voted on by all iTooLL members at the Annual Membership Meeting, and income-based membership scholarships for individuals.
iTooLL Operational Costs
Rent/Tool Security System
Tool Insurance
Tool Repair Costs
140+Media Tools;see our running list here!
Marketing materials and printing
Online Rental Catalog and App (see below)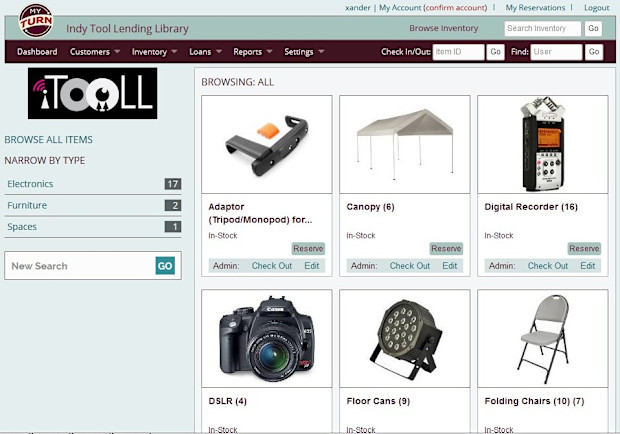 We also welcome volunteers with a passion for promotion, design, media work, writing, community outreach, and are open to ideas and suggestions for new projects. Email us at [email protected] to learn more about how to get involved in iTooLL, our #SocialScreening Film Series, and our sharing community!
Sustainability
As Indianapolis begins to see artists' potential increase through access to high-end sound, media, and tech tools, iTooLL memberships will increase. In order to secure full sustainability of this project, we only need ~12 members (of which we already have 5!).100% of the extra funds beyond sustainability costs will be put back into the library and members will vote on what new tools will become apart of it.